The ride features a rare closed road, mass start thanks to the kind Support of Kirklees Council Highways Dept and West Yorkshire Police. Route marshals are kindly provided by West Yorkshire Advanced Motorcyclists, a feature well liked by our previous riders for their friendly and reassuring directions. HQ is located at Huddersfield New College and there is plenty of parking on site.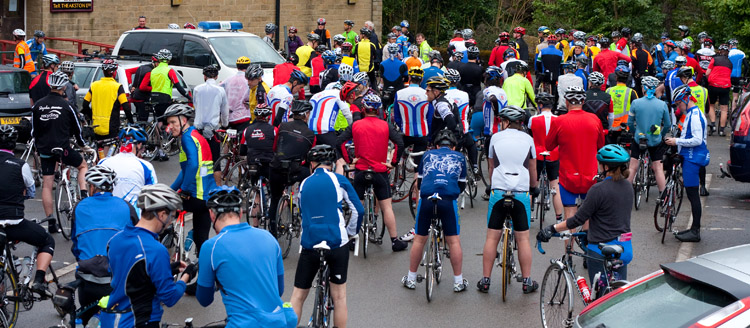 Riders can sign on from 07:00 on the day and should be ready for the 9am start. The full route (with link to gpx file) can be found on the Ride With GPS. There is also a  STRAVA SEGMENT. 
The route features 5 key climbs and with around 7000 feet of climbing, including Holme Moss, a regular feature in many cycling events over recent years including the Tour of Britain and Leeds Classic. With the route featuring them all within the first 35 miles, with only brief, fast descents to recover on.

The ride starts with the gentle climb though Outlane (often made harder by a headwind) and decent into Denshaw.
The first real climb of the day starts in Delph and takes riders over the Standedge, a good climb familiar to many commuters. It is quickly followed by a long descent (being careful to avoid the sheep that like to play in the road) into Marsden, where you face a short sharp climb before another long descent into Meltham.
Meltham is the idea place to refuel/rest if needed before arguably the toughest climb on the route. The climb up Wessenden is brutal even with fresh legs, be careful on the cattle grid at the top.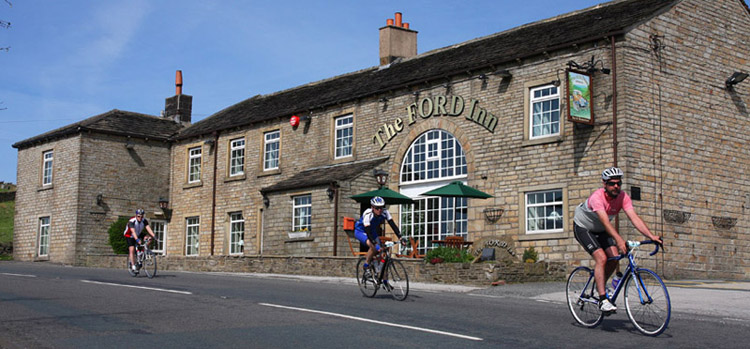 After Wessenden riders can recover on the long descent, whilst enjoying the view, before reaching Holmfirth, home of Last of the Summer Wine – another ideal place for a breather before beginning the long climb to the foot of Holme Moss, a hard enough climb in its own right, made worst by the fact you can see Holme Moss rearing up in the distance. Holme Moss itself is 1 and a quarter miles and features marking in the road every 400 metres so you'll know exactly how much suffering is to go!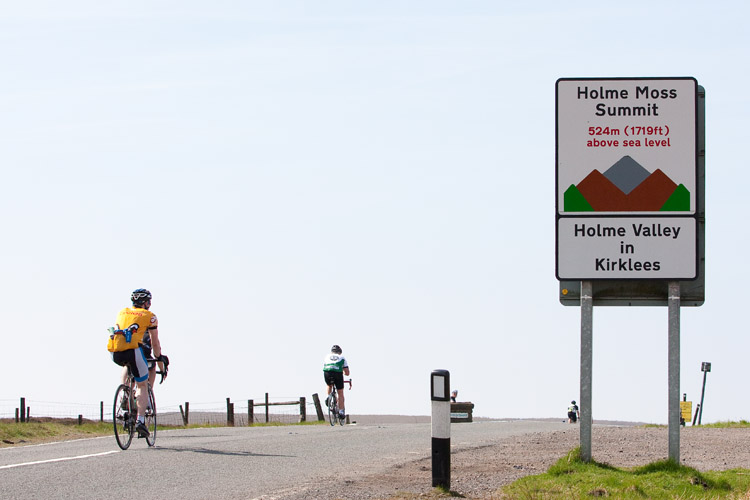 With the worst of the climbs behind them, riders can enjoy the descent to Woodhead before the long drag up the Woodhead Pass. The run in home take riders through Dunford Bridge, Denby Dale (famous for its Pies) before swinging back to home though Emley, Kirkheaton and Bradley, before finishing back at the start where food will be on hand.
With 2 feed stations, mechanical support and the presence of cycling back markers it is a great day out whether you are a seasoned pro, avid sportive rider or just using the event for your annual fitness check.
The rider handbook (collected on the day with your number) has comprehensive route instructions, maps and contact details and should the need arise there are many options for riders to cut short and head back to base.